Voting in the referendum on continued membership in the Canadian Federation of Students (CFS)/Canadian Federation of Students-British Columbia Component (CFS-BC) at Capilano University began on Monday, March 24, 2014. Members of the Capilano Students' Union (CSU) have until Friday to cast their ballots in the referendum.
As has been reported in past referendums, the Yes CFS committee has a number of non-Capilano volunteers popping up on Capilano University campuses. We have been in contact with a number of Capilano students who have confirmed that Lucy Watson (CFS national union steward) Jessica McCormick (CFS national chairperson), Jessica Thyriar (York Federation of Students president, CFS national racialised students' representative), Gayle McFadden (York Federation of Students vice-president campaigns and advocacy), Zachary Crispin (British Columbia representative on the CFS national executive), Michael Olson (former CFS national treasurer, current executive director for the Vancouver Island University Students' Union (VIUSU)), Madeline Keller-Macleod (CFS-BC women students' liaison) and Jenelle Davies (current CFS-BC chairperson) have been spotted campaigning for the Yes committee. We have also obtained photographic evidence of some of these volunteers: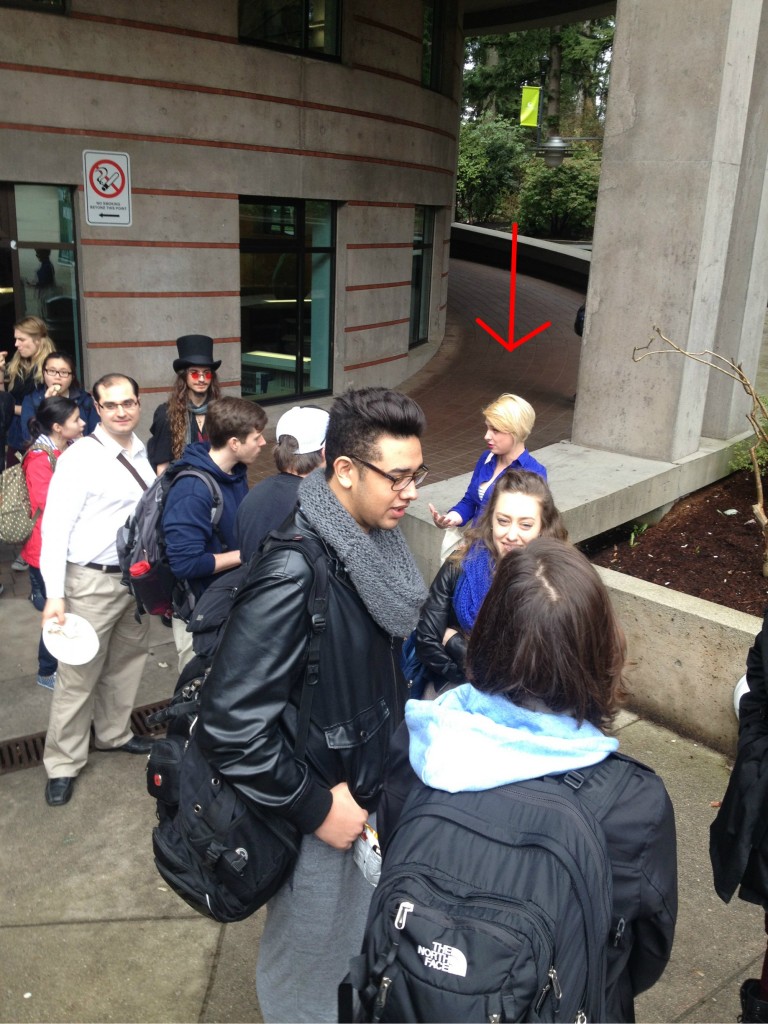 Pictured above is Gayle McFadden speaking to students at Capilano University.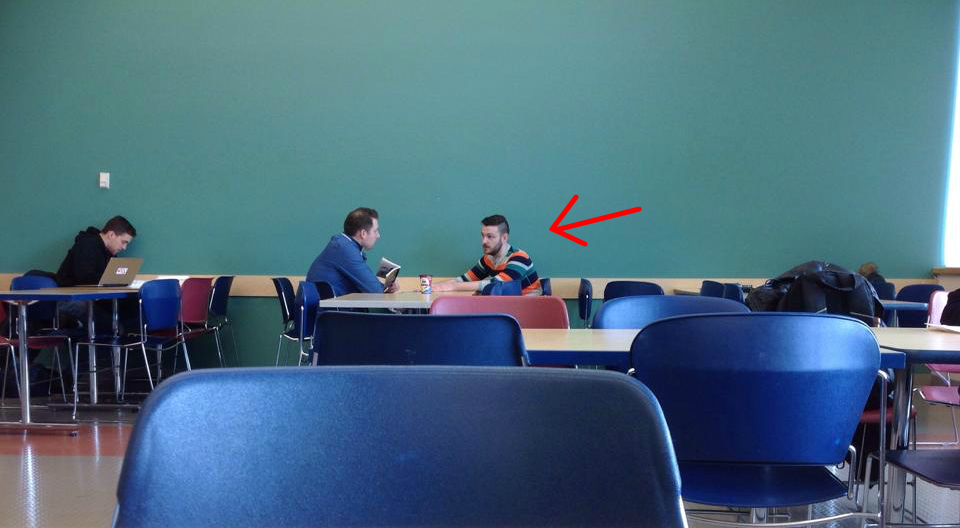 Zachary Crispin appears in the above picture speaking with a student.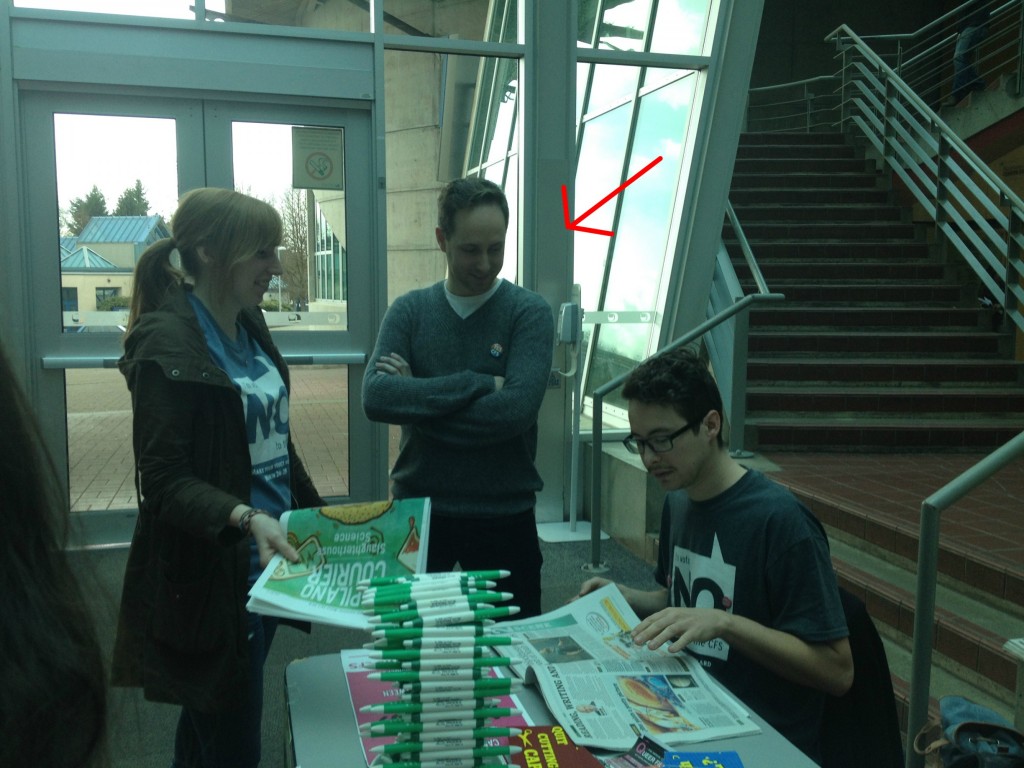 Michael Olson is seen standing beside the No committee's campaign table. This appears to be a tactic that has been used throughout the campaign as you will see below.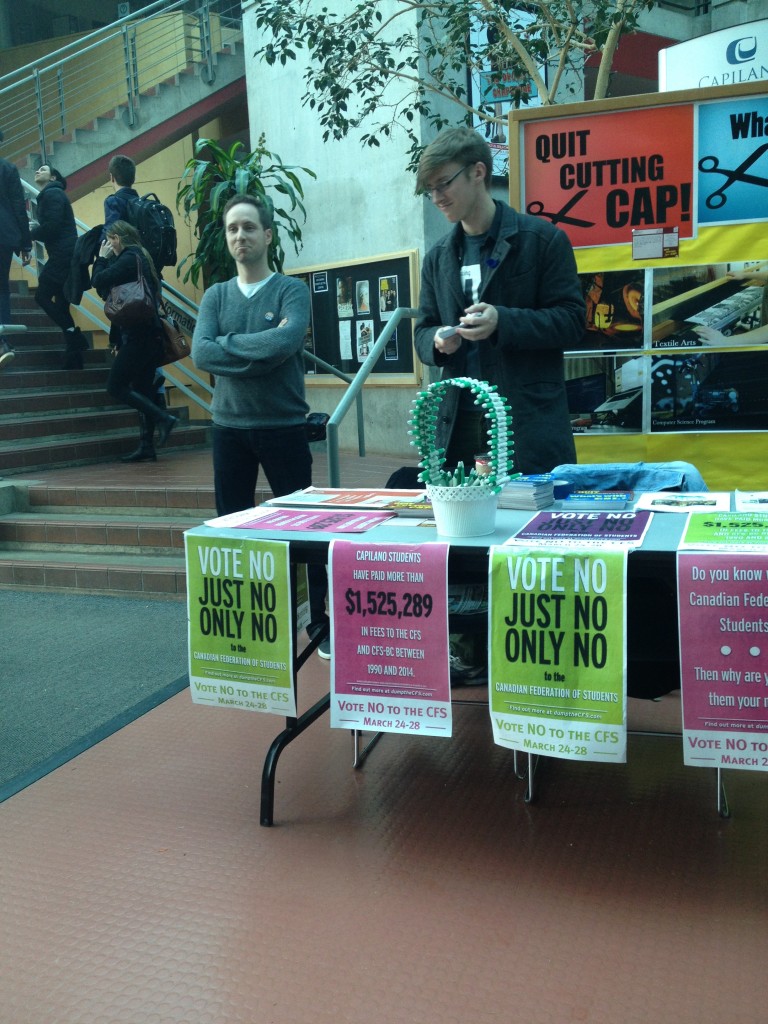 Here's another picture of Michael Olson standing to the left of the No CFS committee's campaign table.
Once again, Michael Olson seems very preoccupied with any student who tries to get information from the No CFS committee table.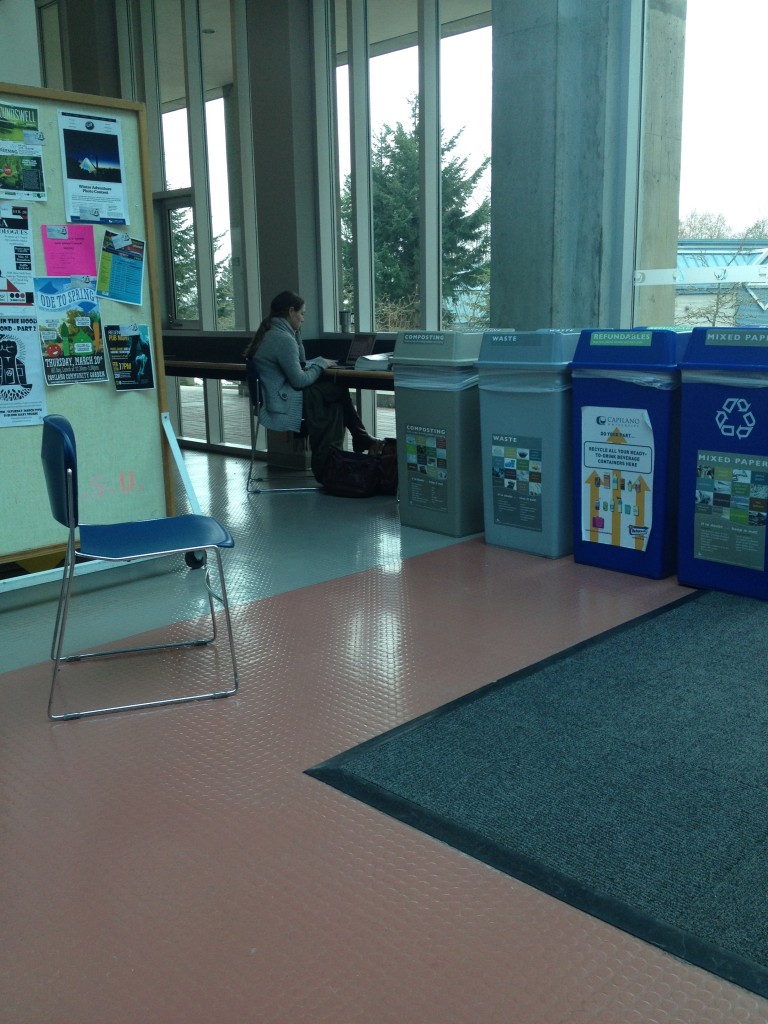 Pictured above is Lori McDonald, deputy returning officer and executive director of the Emily Carr Students' Union (ECSU). Although the process by which she was selected is unknown, a call for applications was put out by Stephen Littley, the CFS referendum chief returning officer.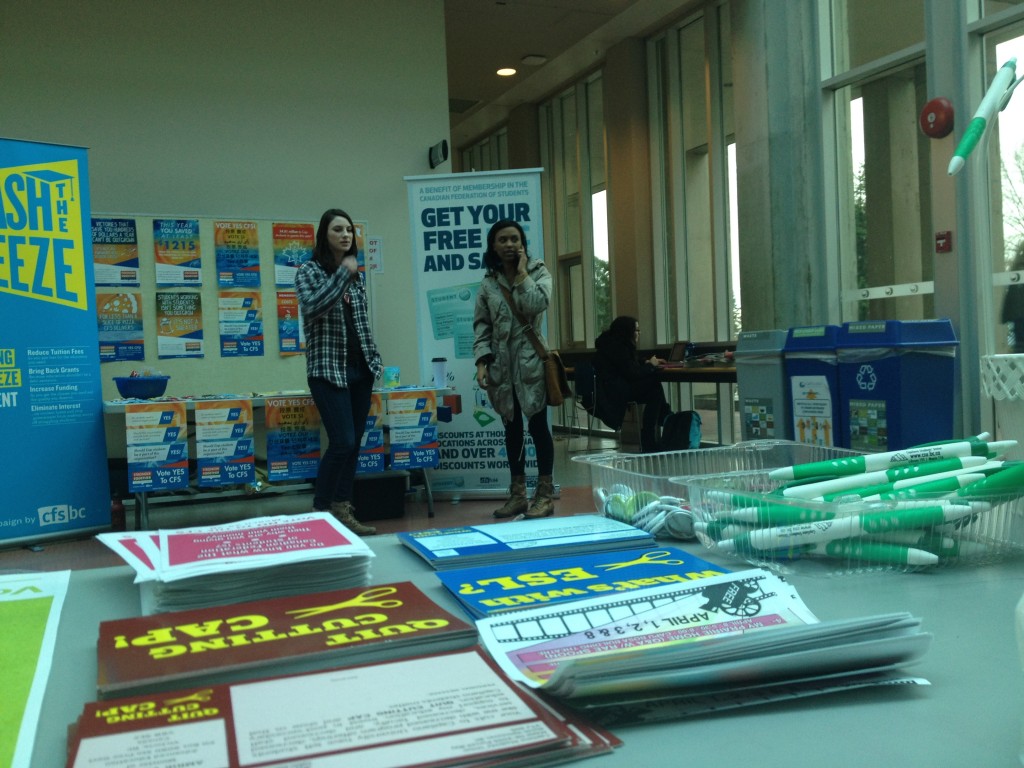 Pictured above is Madeline Keller-Macleod (left), the Lansdowne Campus Executive for the Camosun College Student Society (CCSS).
When I reached out to Mr. Littley to ask him some questions pertaining to penalties he handed out to the No CFS committee , he responded with the following:
I am in contact with the Parties and campaigns involved, and will not communicate with media while the referendum is underway. I am not in a position to provide you with any "side", nor is my deputy returning officer.
With that being said, here's an outline of just a few penalties imposed on the No committee by the CRO.
Complaints and penalties against the No committee
Initially, the No committee's website linked to a number of articles on it "Media" page. Mr. Littley handed out a penalty which claimed that most articles that appeared on that page, which were published on major newspaper websites, were "defamatory, misleading, or false." Although I'm waiting for the list of all the articles that were removed, I can confirm that an opinion piece critical of the CFS, penned by yours truly, was one of them. The No committee posted the following clarification after receiving the penalty:
On Monday, the Dump the CFS Facebook page informed Capilano students that it had received a penalty resulting in a 48 hour suspension of its campaign website: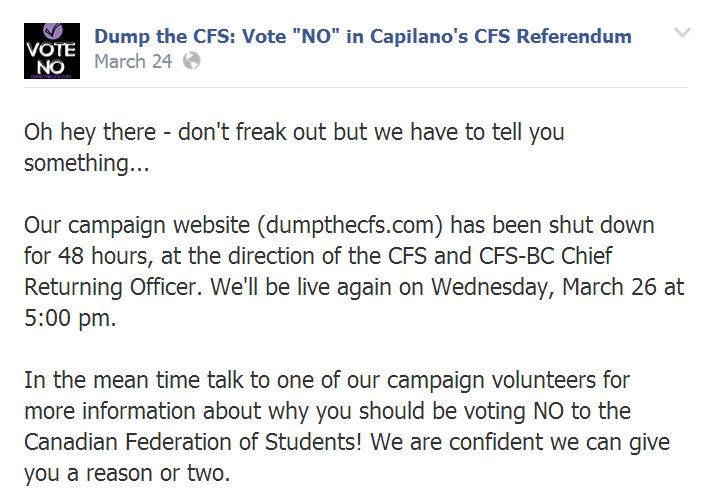 After this No committee's video received approval from Stephen Littley, yet another penalty was leveled against the No committee which was forced to take it down because it was "misleading":
Meanwhile, a complaint was logged against a pro-CFS video, released by the Yes committee which, at the time of publication, had yet to be resolved.
Students I have spoken with have been extremely reluctant to speak about what has been occurring on the ground for fear of having a No result thrown out by the chief returning officer. It should be noted that I emailed the Yes committee (on Wednesday, March 12, 2014) and have yet to receive a response.
UPDATE – March 29, 2014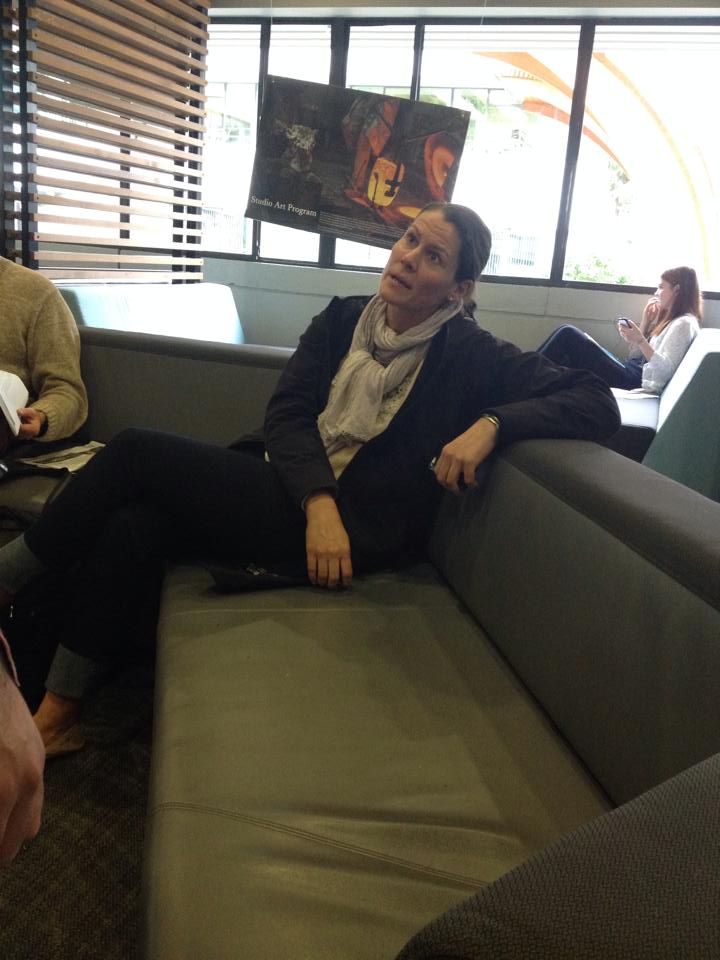 Pictured above is long-time CFS employee, Lucy Watson, present at Capilano University during the referendum on continued membership in the CFS/CFS-BC.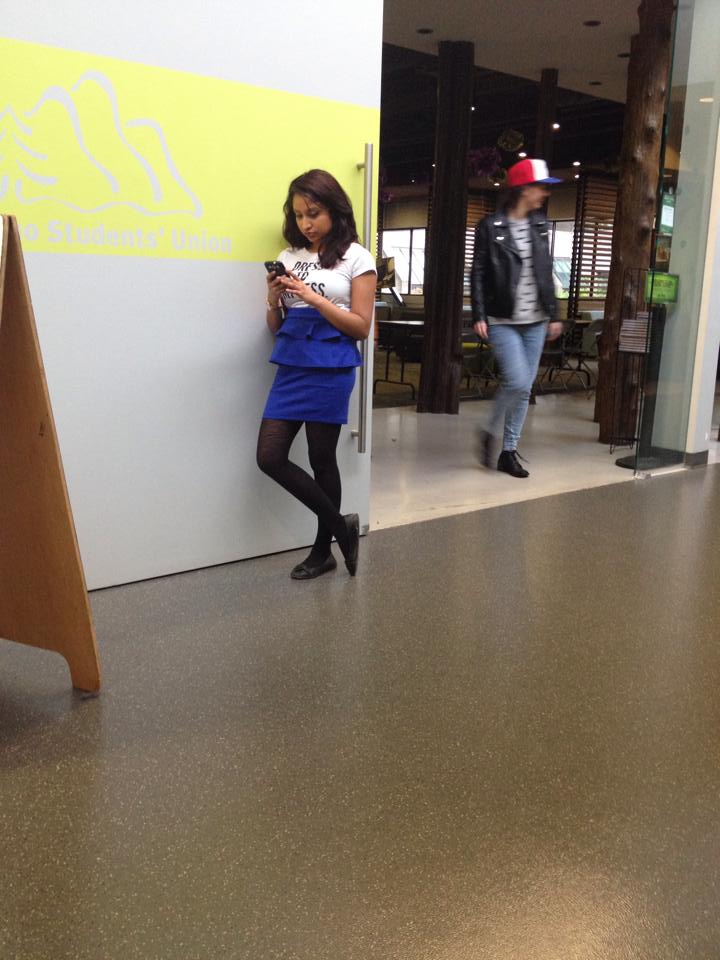 President of the York Federation of Students, Jessica Thyriar, hard at work campaigning for the pro-CFS campaign committee.