According to an article published yesterday in The Leveller, bloggers Mathieu Murphy-Perron and Jarrah Hodge as well as Rabble.ca were served with a cease and desist order from the Carleton University Student Association ("CUSA on behalf of Alexander Golovko and the members of the CUSA administration").
Studentunion.ca has obtained a copy of the cease and desist order, dated September 11, 2014, signed by Katie Black of CazaSaikaley LLP. 
The letter refers to a blog post, published on September 7th on Murphy-Perron's blog, entitled "Safer(r) Spaces & CUSA's shortcomings" which refers to the "F*uck Safe Spaces" shirts that were worn by students who The Charlatan has identified as Carleton University "orientation week leaders". Images1 of these shirts circulated across various social media platforms but many seem to have since been deleted. 
The blog post was later published by Rabble.ca under a different title: Carleton 'F*uck Safe Space' scandal legacy of conservative student union takeover. The order further claims that Ms. Hodge published Murphy-Perron's blog post on her website, Gender Focus, on September 9th. While at the time of publication, the blog post was still accessible on both Murphy-Perron's blog and rabble.ca, I was unable to find any mention of the blog post on Ms. Hodge's website.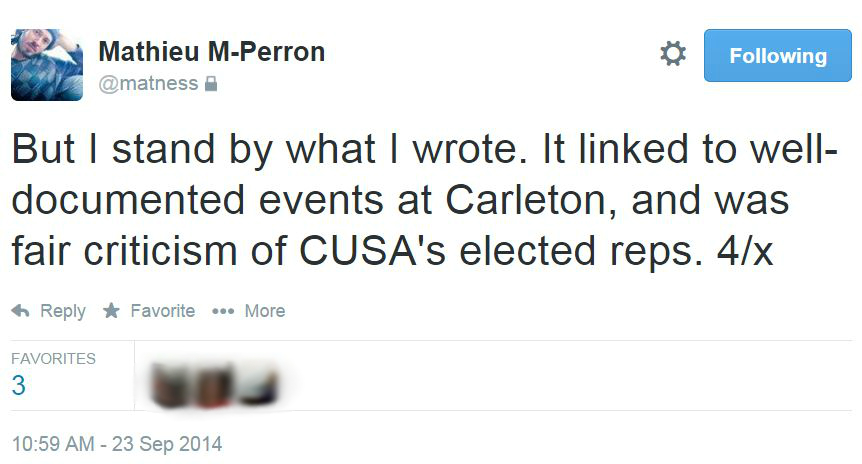 According to a series of tweets from Mathieu Murphy-Perron (above), he seriously considered taking down the blog post but decided against it. He also tweeted that "[i]t's an uneasy feeling to be bullied into retracting criticism. No fun at all." He also said that he stands by what he wrote as his blog post was well-sourced and was "fair criticism of CUSA's elected reps."
UPDATED: September 26, 2014
The CUSA executive released a statement via its website. In it, the executive clarifies that "CUSA is not in a legal dispute with the of the aforementioned parties [rabble.ca and Mathieu Murphy-Perron]" and that its legal counsel sent the parties a cease and desist order because "CUSA was and remains concerned that a significant portion of the editorial did not accurately represent the work and reputation of this student association." Following the publication of the cease and desist order in question by studentunion.ca, The Leveller updated its article by also reproducing it. The update further included quotes from Wednesday's CUSA Council meeting. 
1. Image originally posted to Twitter by Leslie Robertson (@GalldinRoberts).